But Wait, There's More Licks
Our study in classic licks continues with...
Hang on, I'm not done yet. Now, we reach the most exciting part of the video...
How to Build a MONSTER Solo
Playing a great guitar solo is like telling a musical story. In this section of the video, I go into a specific demonstration of how to do this.
The fun ain't over yet folks :) There's...
Even More Licks!
By the way, there are a total of 52 Example licks on the DVD, and all of them are notated right on the screen, as well as included online. In this last batch of licks, you'll learn...
And I don't leave you hanging at the end of the video either. I wrap things up by explaining exactly what and how you need practice.
But even with everything I've managed to cram into this video, I just wasn't convinced that 65 minutes of instruction was enough. That's why I'm also including
You'll Also Get a Powerful E-Book...
10 Downloadable Audio Lessons...
Even "Jamming Tracks" to Practice With
That's right... You are also getting 10 Downloadable audio lessons that will reinforce your understanding of the DVD and make sure that you really do learn to play lead guitar in record time.
You also get my E-book, Killer Lead Guitar, Made Simple. This e-book also reinforces the principles of lead guitar, while providing invaluable charts, diagrams, chord progressions, and more. Finally, I've created several killer audio files of chord progressions you can solo over. The e-book, audio lessons, and jam tracks are all instant downloads, so the fun starts right now.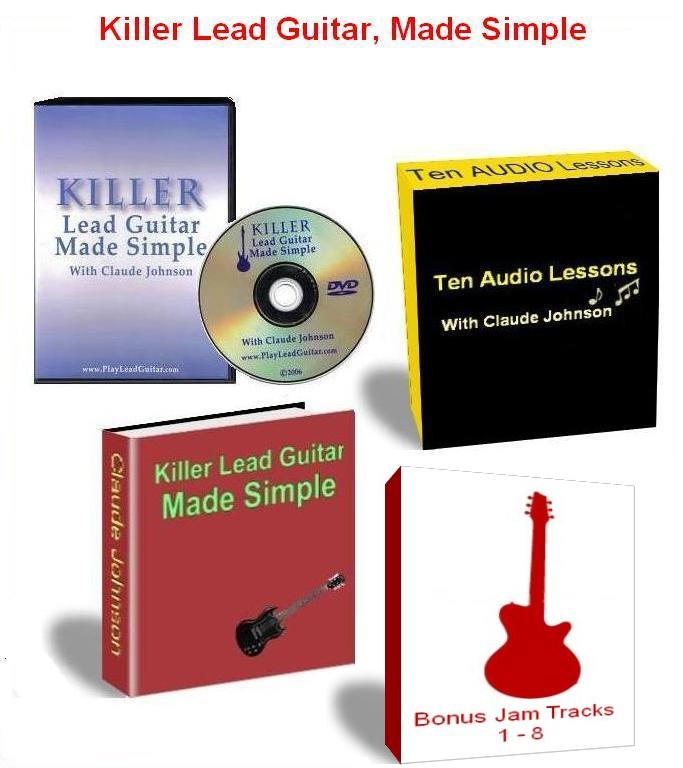 Most people would guess the price of this package is in the $60 - $100 range. Fortunately, it isn't. By squeezing everything onto a single DVD and including the audio and written material as a download, I was able to seriously reduce the cost of producing these lessons. Also, I decided to price this course especially low because I know that many people are interested in learning lead guitar.
This value-packed offer includes the includes my 65-minute DVD, the 10 Audio Lessons, the E-book, and the jam tracks, all for the amazing low price of $49.95. You'll save hundreds of dollars from expensive private lessons that rarely will be as effective as "Killer Lead Guitar, Made Simple".
OFFICIAL LAUNCH SPECIAL


To celebrate the official launch of this new course, we are slashing the price 30%! So, you are going to save $15 by ordering before Jan 30th at midnight! Grab it now - don't miss out!


I am extremely confident this course will work for you. In fact, I personally guarantee that, if you follow the exact steps as I outline in this course, you will be playing Killer Lead Guitar almost immediately. And I'll back that up with my
"Better Than Risk-Free"
365 day Iron-Clad Money Back Guarantee

No, I can't expect you'll suddenly appear on the cover of Rolling Stone magazine. And I can't guarantee you'll be playing for 50,000 screaming fans by next weekend. But I do promise that if you follow my instructions, you will experience immediate results. You'll wail on the guitar in record time... You'll amaze yourself and others. Seriously.
If you're unsatisfied for any reason, I insist you receive a complete refund of every penny, AND... You still keep the 10 audio lessons and the E-book for your troubles.
I'm putting my money where my mouth is, and I'm taking all the risks here, because I know this method works.
Click Here To Become
A Killer Lead Guitarist Overnight...
Man, I cannot describe the thrill and excitement of playing lead guitar, not to mention the satisfaction that comes from being able to wail in your style. It's just awesome! And the best part is, your own "Killer Lead Guitar" experience may be closer than you realized. I look forward to hearing from you,
Claude Johnson
P.S. In case you're still undecided, here's a few unsolicited letters I've gotten about my videos...
"Got your lessons today thank you. This is going to be fun. I like the way you teach."
Dave Harrison
"The killer guitar DVDs are great.Very fast shipping!"
Richard from the UK
"Hey Claude, Thanks for jumping on it so fast, you went above and beyond what you had to do. I had a feeling I had picked the right course to buy. You are a class act."
Wayne Allen, Georgia
"You are fun to listin & watch, I am learning quickly now! I am now working on some randy rhoads stuff! Many thanks!"
Robert Lockhart
Click Here Now To Access Killer Lead Guitar Insider Shorcuts...